Managing the Risks & Reaping the Rewards of an Extended Workforce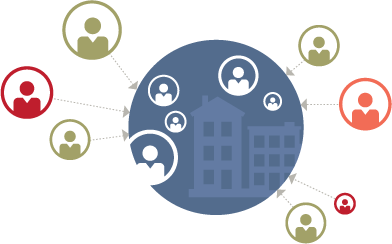 This article is excerpted from a recent guide to Extended Workforce Risk Management from Proforma Screening Solutions, a Lowers Risk Group company. Download the complete guide here.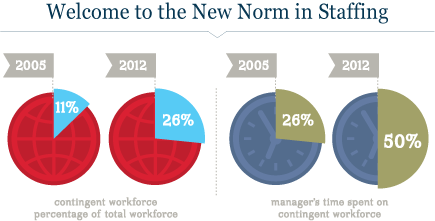 Temporary, contract, or contingent.  Regardless of the term you use to classify the extended workforce—consisting of people who provide service to your organization but are not enrolled in the company payroll—the fact remains that these workers are changing the face of staffing.
Relied upon by companies of all sizes to provide flexibility, specialized skills, innovation, labor cost control, and more, the extended workforce has woven itself deep into the fabric of today's leading organizations. The extended workforce has become so prevalent that according to Aberdeen Group research, 26% of the average workforce consists of contingent, temporary, or contract labor as of 2012, up 9% since 2009.
Similarly, the U.S.  Department of Labor's Bureau of Labor Statistics cites the contingent workforce among the fastest growing segments of workers, with a predicted increase of 23% from 2010 to 2020.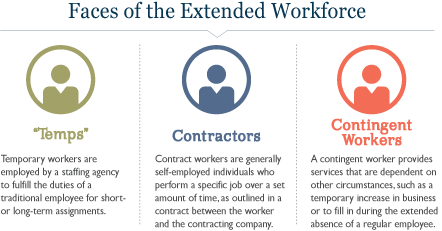 Beyond sheer numbers, the face of the extended workforce is changing.  It's no longer limited to the traditional view of "temps" working as secretaries and file clerks.  Instead, we see positions across the spectrum of the organization being filled by temporary, contract, or contingent workers—from CEOs to healthcare workers, to IT professionals and other managers.
As stated in a recent workforce trends report by the consulting firm Deloitte, "Given the talent, cost, and risk considerations that today's corporations face, the use of contingent workers is becoming a business imperative for many organizations — not just a nice-to-have." Properly managed, it is noted that extended workers can provide a significant competitive advantage by reducing labor costs, allowing companies to be more responsive to dynamic market conditions, and filling critical workforce gaps.
And it's not just the companies that are benefiting from an "extended" relationship.  This mode of work is filling the personal and professional desires of individuals who seek greater control and flexibility in their careers.

While an extended workforce can offer many benefits, it also brings clear risks that many organizations unfortunately fail to properly manage.  For example, these workers typically have the same access to company facilities, records, and computer systems as any full time equivalent employee would have.  Yet, studies have shown that a surprising majority of companies fail to uphold the same screening requirements of their contingent workers as they do equivalent "regular" employees.
One of the defining traits of extended workers is that they are not on the payroll of the company to which they provide service.  They may be paid by a temp agency, staffing firm, or consulting firm, or they may simply be an independent contractor paid as a vendor of the company.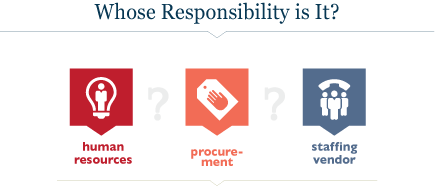 The assumption of many employers is that the responsibility for screening these "employees" rests with the placing organization—the temp agency, staffing firm, etc.  In fact, many employers believe that they can bypass the threat of litigation for negligent hiring or tort liability by using workers who are screened elsewhere.
In reality, regardless of the party with ultimate responsibility for the acts of contingent workers, the company that worker is "representing" stands to lose in more ways than one.
An employer's failure to ensure that the agency supplying its contingent workforce is diligently screening its workers could eventually transfer liability for negligent hiring directly to the organization.  Employers cannot rely on pointing the finger at the staffing company.  Rather, the employer is often labeled a "co-employer," and can quickly be found liable in legal decisions.
Even if a third party were to sue an employer for the actions of a temporary employee, and the employer were to successfully defend the suit, the employer is still forced to spend valuable time and money on attorney fees, pre-trial preparation, and discovery.
Reputational risks are also great.  When something goes wrong it hardly matters who was "technically" at fault.  If any employee represents your company—whether as a full time employee or as an employee of a staffing firm—it's your reputation on the line.