Fraud Week 2020: Fraud in the Time of COVID-19

Is the Pandemic Helping to Mask Fraud?
Fraud Week is an initiative of the Association of Certified Fraud Examiners (ACFE) to promote anti-fraud awareness and education. Today, we begin a special 5-part Fraud Week Coffee Break Series where we invite you to spend 10 minutes each day learning about various aspects of fraud detection and prevention through the eyes of our Certified Fraud Examiners and other fraud experts.
For this episode, we interviewed Mark Lowers, CFE, Founder and CEO of Lowers Risk Group, and Brad Moody, CFE, CFI, EVP of Operations for Lowers & Associates.
In its 2020 Report to the Nations on Occupational Fraud, the ACFE looked at common types of fraud and popular ways perpetrators conceal their activities. A related study from the ACFE explored the reported increase in fraud during the COVID-19 pandemic. What's behind the increase? And how can organizations better protect themselves from becoming victims? We begin here.
Grab a cup of coffee and spend 8 minutes listening to the experienced voices of Mark Lowers and Brad Moody:
According to the ACFE, there are three primary categories of fraud: Asset misappropriation (seen in 86% of reported cases), corruption (43% of cases), and financial statement fraud (10% of cases). Within those broad categories are a number of fraud types:
The Fraud Tree: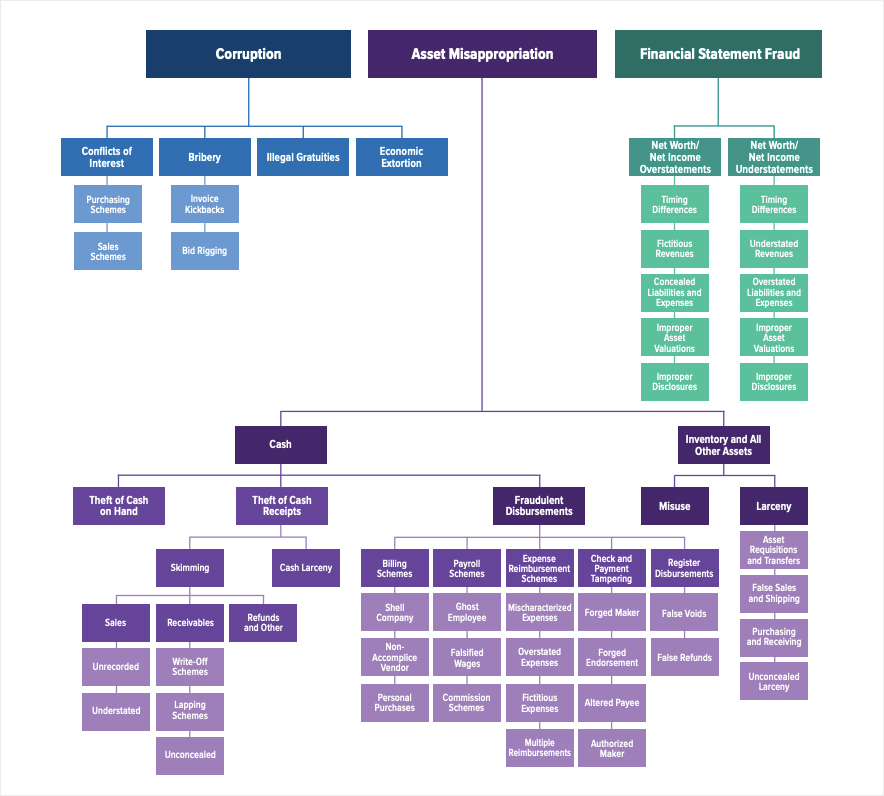 Source: ACFE Report to the Nations
Considering that organizations lose 5% of their revenues to fraud each year, it's helpful to understand how fraudsters are able to conceal their activities. Here's what the ACFE report found: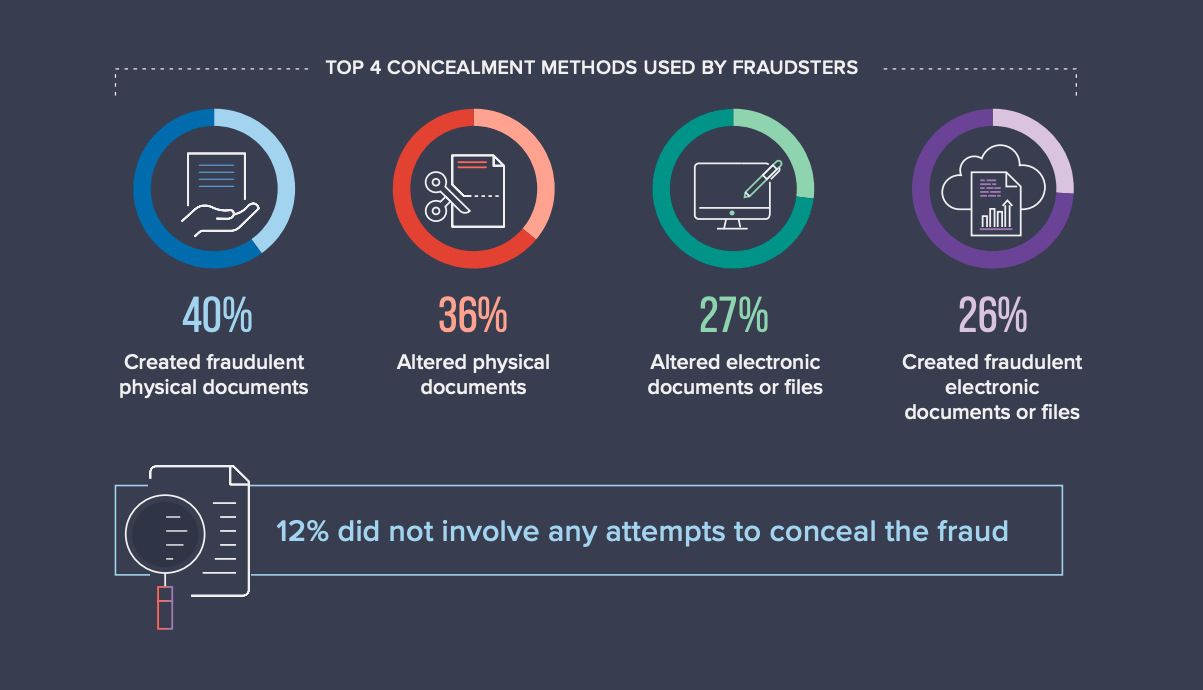 Source: ACFE Report to the Nations
"(Bad actors,) especially in the IT world, one thing that they're very good at is they're very patient so a lot of the systems that have been impacted have been inside the corporate networks for a long time in order to gather information in order to perpetrate the crime," explains Brad Moody.
Adding in the COVID Layer
We also have to look at how the COVID-19 pandemic crisis has impacted fraud. The ACFE is reporting increases across the board in nearly every type of fraud during COVID and expects these impacts to continue to have an impact for some time to come.
Mark Lowers explains it this way: "It's really not that surprising (to see an increase in fraud right now) on the basis you have a tremendous remote workforce today. And those that are in designated work environments, you're working with reduced staff because not everybody is considered essential. So, the layers of controls and the layers of operational controls that have historically been in place, in some cases people are doing workarounds to get work done. Anytime you do those workarounds, you have an opportunity for fraud to occur."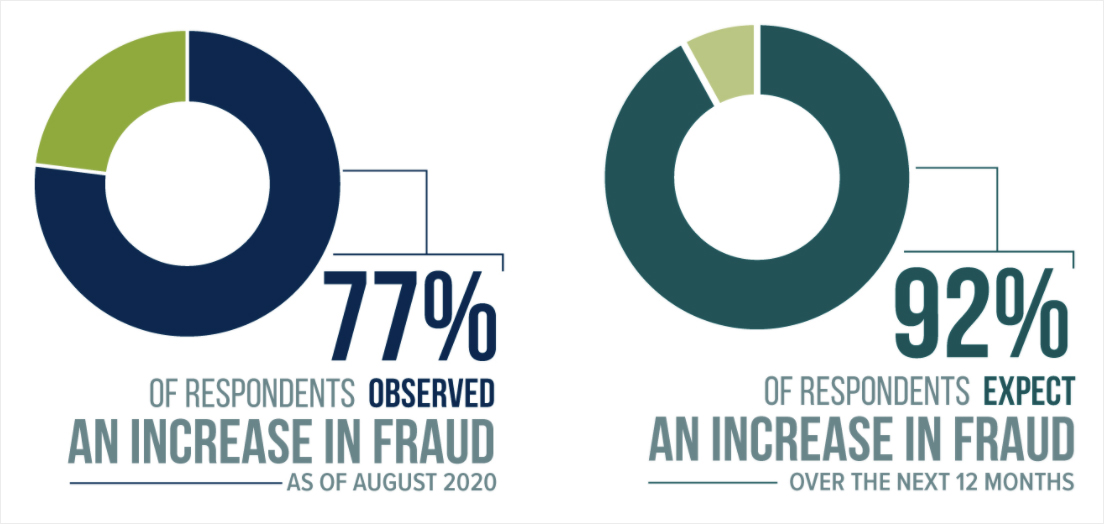 Source: ACFE, Fraud in the Wake of COVID-19: Benchmarking Report
As the ACFE explains, "Travel bans, employees working remotely, and an increased reliance on technology and economic uncertainty have become the reality for many organizations around the world. And while these and other hurdles present numerous logistical and operational challenges, they also open the door to the increased pressure, opportunity, and rationalization that can lead to fraud."
In fact, the ACFE report found increases in cyber fraud (social engineering, phishing, ransomware schemes), financial statement fraud, payment fraud, and employee embezzlement. Just about every category of fraud has been on the rise during the pandemic.
Lessons Learned from the Financial Services Industry
Cash is the culprit in many asset misappropriation schemes (theft of cash on hand, theft of cash receipts, fraudulent disbursements) and these cash-related fraud schemes can last a median duration of 14 months or more. The longer a fraud remains undetected, the greater the financial loss.
Here at Lowers Risk Group, we work extensively with the financial services industry and specifically with the cash servicing industry. As Mark Lowers and Brad Moody explained, while the industry, on the whole, is doing a great job during these extremely tough circumstances to protect their people and assets, the industry also provides a perfect backdrop for organizations of all types looking for ways to shore up their own internal controls.
We hope you enjoyed this first Coffee Break. Come back tomorrow to learn about the critical role of whistleblowers and auditors in your fraud prevention program.