Fraud Week 2020: Fraud Runs Amok

Where Are the Whistleblowers and Auditors?
Today, we continue our special 5-part Fraud Week Coffee Break Series where we invite you to spend time each day learning about various aspects of fraud detection and prevention through the eyes of our Certified Fraud Examiners and other fraud experts.
Fraud Week is an annual movement, organized by the Association for Certified Fraud Examiners (ACFE), to champion the need to proactively fight fraud and help safeguard businesses and investments from the growing fraud problem.
In its 2020 Report to the Nations on Occupational Fraud, the ACFE looked at how fraud is detected. As it turns out, 43% of occupational fraud is detected by tips. The next most common way is 15% by internal audit. These statistics underscore the vital role of whistleblowers and the need for organizations to provide programs that enable employees and others to be able to safely report suspicious activity.
Fraud Detection
Whether by whistleblowers or other methods, fraud detection is a concept organizations need to understand in order to limit the losses they suffer at the hands of fraud. The faster organizations can detect fraud, the smaller the size of the loss. According to the ACFE, "It is also key to fraud prevention because organizations can take steps to improve how they detect fraud, which in turn increases the staff's perception that fraud will be detected and might help deter future misconduct."
As mentioned, by a large margin, tips from whistleblowers are the most common way occupational frauds are uncovered. This fact underscores the importance of cultivating and thoroughly evaluating tips that come in through your whistleblower program.
Here's what the data reveals about fraud detection methods: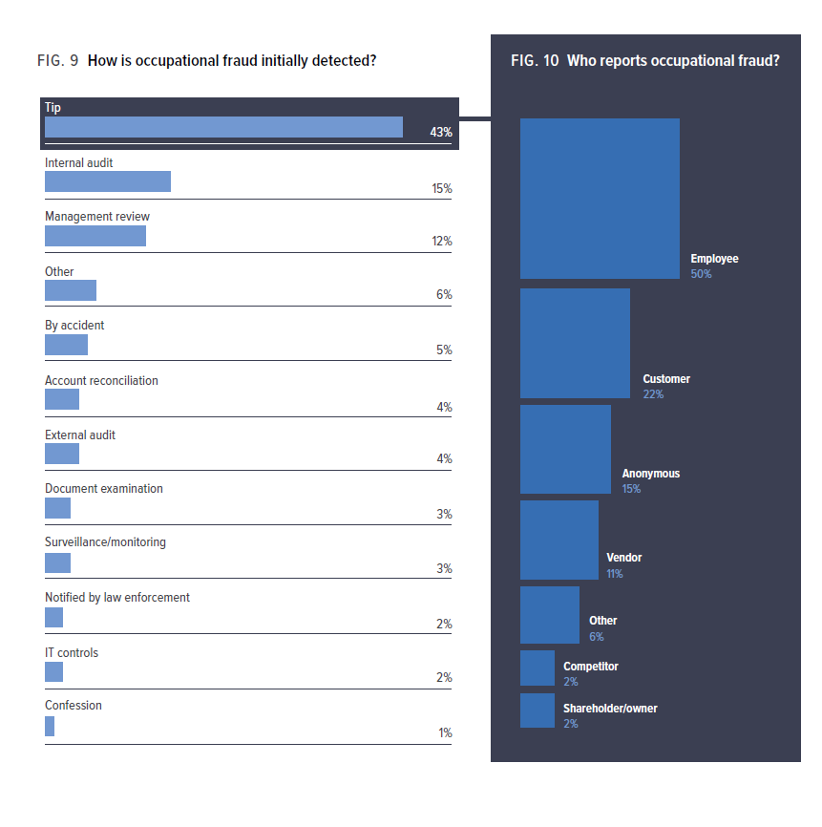 Source: ACFE 2020 Report to the Nations
How COVID-19 is Impacting Whistleblowers and Auditors
Preventing, detecting, and investigating fraud is more difficult during the COVID-19 pandemic. In fact, according to the ACFE's COVID-19 Benchmarking Report, "An inability to travel is still the most significant challenge in combating fraud right now, but more people are citing conducting remote interviews as a current top challenge."
In COVID, since a lot of people are still working remotely, a lot of employees can't observe other employees' habits and what they're doing. And in general, investigating during COVID is very difficult because companies aren't open and travel is more difficult.
Despite the challenges, organizations are wise to continue to support whistleblower programs and maintain their focus on fraud detection and investigations during the pandemic where the pressure, opportunity, and incentive for fraud is very high.
We hope you enjoyed this Coffee Break article. Come back tomorrow to hear from Carlos Rivera, CFE, MAFF, Senior Vice President – Caribbean & Latin America of Lowers Forensics International and Grant Mizel, Financial Analyst, Emerging Markets of Lowers Risk Group. Rivera and Mizel will speak about situational awareness and the Fraud Triangle during COVID-19.