According to a 2018 report from the Association of Certified Fraud Examiners (ACFE), organizations lose 5% of their annual revenues to fraud. While you know your organization is not immune to fraud, it can be easy to assume that sooner or later, the fraudsters inside your organization will be caught. Surely, the controls you have in place and the managers and employees you trust are keen enough to detect and report unusual behaviors. So, why not let the truth reveal itself?
Should you do more to detect fraud?
While it's true that most fraud (40%) is caught by tips from employees, customers, or vendors associated with the victim organization, relying on those tips is neither the most proactive nor the most effective way to detect fraud. In other words, just because tips are common, doesn't mean they are the best source of detection.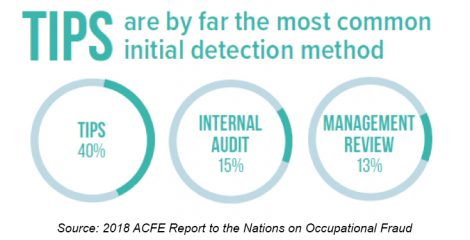 Proactive fraud detection measures are shown to minimize the losses and damages caused by occupational fraud. The stark difference between proactive and passive detection methods comes to light when median losses and median months to detection are compared. Let's take a strictly passive fraud detection method: confession. In cases where confession is the primary source of detection, it usually takes 24 months and costs the organization $186,000 in losses before the fraud comes to light. Comparatively, proactive measures such as account reconciliation, impact the organization far less and are detected more quickly. On average, account reconciliation is able to detect fraud within 11 months of its onset and halves the cost of fraud induced on an organization in comparison to relying on tips.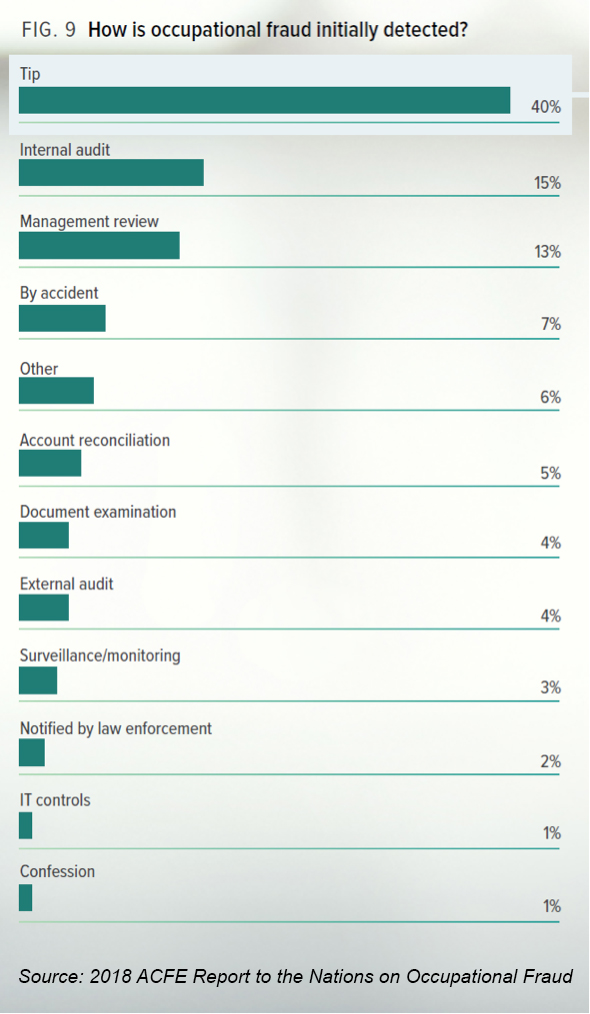 The outliers here are detection methods that are neither strictly active nor passive. These include tips and external audits, and how they are categorized depends on the circumstance. According to the 2018 ACFE report, such solutions were less effective than truly active solutions, but more effective than explicitly passive. For example, where fraud is detected through a tip, the case has generally already gone on for an average of 18 months with a median loss of $126K.
Being proactive is key to minimizing the losses and damages caused by occupational fraud.
The 2018 ACFE Report cites six proactive detection methods:
IT Controls
Surveillance/Monitoring
Account Reconciliation
Internal Audit
Management Review
Document Examination
The correlation between active and passive detection methods is made very clear. When plotting median months to detection and total losses, all six proactive detection methods outcompeted the passive detection methods in terms of both the time it took to detect, and the total amount lost in the case.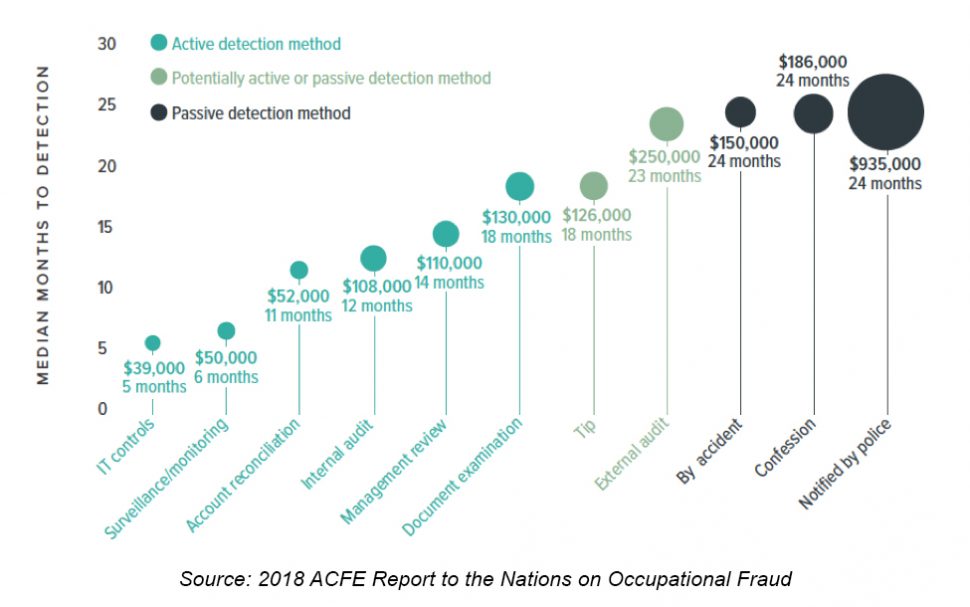 The point is clear, by choosing to proactively go after fraud, you put yourself in better standing to catch offenses early. This could be achieved by putting in place one of the six active detection methods. These proactive measures can be combined with other detection tools, such as hotlines. Hotlines and other reporting mechanisms were associated with a 50% reduction in losses for companies who have them, compared to companies without.
Does your organization take proactive measures to reduce the risk of occupational fraud? Discover ways to protect your company from the inside out.