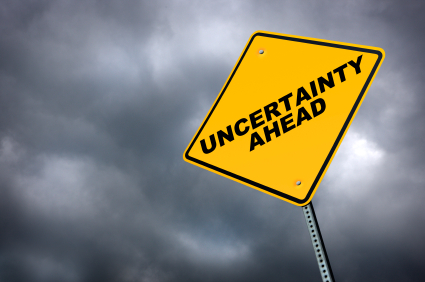 Risk Management in 2013
Headlines this time of year tend to center on predictions for the coming year and reflections on the year past.  An unprecedented number of risks face managers in the year ahead, yet one theme prevails in our minds as defining the challenge for risk managers in 2013: Uncertainty.
Uncertainty is the new normal.
Companies face a rapid rate of change across all dimensions of business, and risks that many never imagined have entered the realm of possibility for organizations. It would be difficult for any company to have predicted or planned for the truly global impacts of such seemingly 'local' events including the euro crisis, the subprime mortgage crisis, the tsunami in Japan, the Arab spring uprisings, Hurricane Sandy, flooding in Thailand… and the list goes on.
In today's hyper-connected world, the damage caused by even "small" problems can far exceed expectations.
A recent Fortune magazine article focused on the issue of uncertainty as it relates to policymaking, and labeled uncertainty as "business's real problem."  The author explains that uncertainty creates a pattern of "paralysis" in which policymakers put decision-making on hold and business leaders are left without a predictable set of rules by which to make decisions.
Indeed, unnerving might be a better label for the environment we face.
As a result of uncertainty, a 2012 Harvard Business Review Analytics (HBRA) survey found that companies around the world are much more concerned about risk management. Unfortunately, most are also not where they want to be in terms of managing risk.
Dealing with Uncertainty
The HBRA report points to six risk management capabilities that are most often cited as critical to organizational performance. These capabilities must come to the forefront in 2013 in order for organizations to face uncertainty with greater confidence:
Link risk information to strategic decision making
Embed a risk-aware culture at all levels
Build risk management practices and responsibilities within strategy and operations
Ensure that all decisions remain within the organization's risk tolerance
Drive risk mitigation activities
Proactively identify current and emerging risks
As you consider how uncertainty affects your approach to protecting people, brands, and profits, what concerns you most? We invite you to discuss your enterprise risk management program with one of our experienced consultants.  Request a consultation today.